Wayanad is not just a district, it is the only plateau in all of Kerala. Located at an altitude of 700 to 2,100 meters, this hill station is part of the Western Ghats and the southern part of the Deccan Plateau. There are a handful of places to visit in Wayanad in 2 days if you only have a weekend before you need to rush back to your routine.
Wayanad Places to Visit in 2 days
Day 1 Wayanad Places to Visit
Wayanad Wildlife Sanctuary
Edakkal Caves
Cheengeri Hills
Phantom Rock
Karapuzha Dam
Day 2 Wayanad Places to Visit
Chembra Peak
En Ooru Village
Wayanad Tea Museum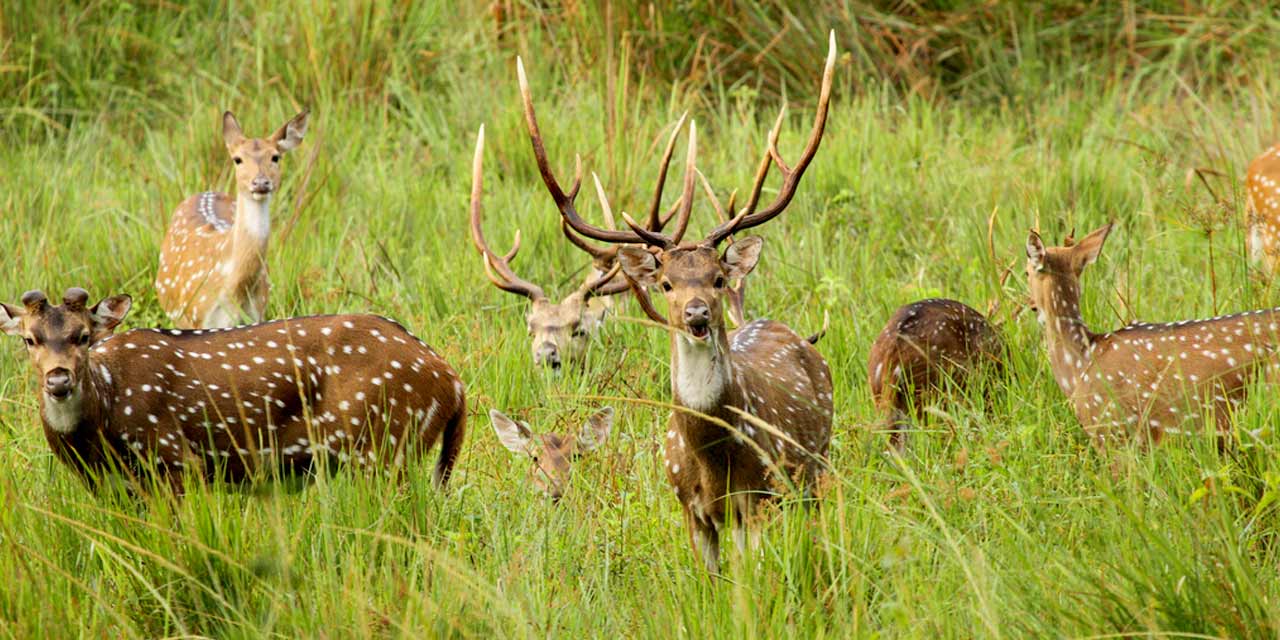 Spread over 344 square kilometers, Wayanad Wildlife Sanctuary is open on all days of the week from 7 AM to 10 AM and 3 PM to 5 PM. Home to four hill ranges – Tholpetty, Sulthan Bathery, Kurichiat and Muthanga, this wildlife sanctuary was established in 1973. This protected sanctuary is bordered by the Mudumalai National Park of Tamil Nadu and Karnataka's Bandipur National Park and Nagarhole National Park.
Book a jeep safari for the ultimate thrill of experiencing the forest and sighting animals such as the Asian elephant, snakes, tigers, monitor lizards, leopards, sloth bear, jungle cats, dole, civets monkeys, gaur and deer. You will also find peacocks, red-headed and white-rumped vultures, jungle fowls, babblers, woodpeckers, cuckoos and owls here.
Part of the Nilgiri Biosphere Reserve, entry to Wayanad Wildlife Sanctuary costs INR 160 per person and a jeep can be hired for INR 720 per vehicle, each with a capacity of 7. In addition to this, a one-hour bus safari through the protected area is also available for INR 300 per person.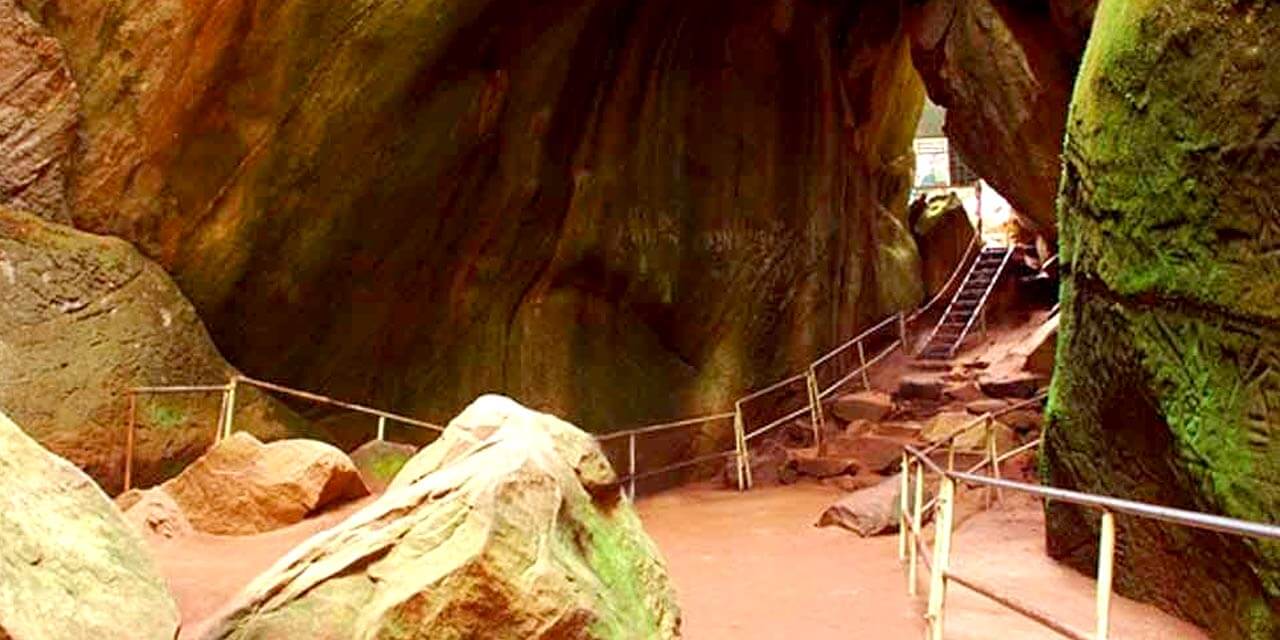 Open from 8:30 AM to 4 PM, Edakkal caves are located on Ambukutty Mala at an altitude of 1,200 meters above sea level. This pair of caves was discovered in 1890 by Fred Fawcett and is a nice place to explore in the winter months of November to January.
For INR 20 per person and INR 40 for parking, this attraction is quite affordable if you are on a budget. The pathway through the caves is steep, so shoes with good grip are required. You will be hiking for about a kilometer and climbing around 300 steps, so a moderate level of fitness is also recommended.
There are plenty of roadside stalls nearby where you can have your breakfast before beginning your exploration or lunch after you return exhausted. But beware of the monkeys that are on the pry. The caves bear plenty of inscriptions and the petroglyphs are of particular interest to historians and archaeologists.
3. Cheengeri Hills
One of the must visit places in Wayanad during your 2-day trip is Cheengeri Hills which are only accessible until 5:30 PM. If you are a fitness enthusiast, a trek up this hill is quite attractive. There are a few stores at the starting point of this hike where you can buy some refreshments. However, if you attempt this hike at 6 AM when the trail opens, you may not find any open vendors, so it is a good idea to pack your snacks and water ahead of time.
You must pay the entry fee of INR 100 per person to go up Cheengeri Mala (where "mala" means "hill"). If you are under confident about making the climb, you can use the ropes that assist climbers along the way. The ascent is approximately 2 km. From the top, you will get a 360-degree view of the valleys around. You can also request for a guide dog at the ticket office if you wish for some canine company.
4. Phantom Rock
A short drive away from Cheengeri Mala, Phantom Rock is a naturally occurring mountain formation that can be accessed from 8 AM to 5 PM on all days of the week. This is another trek, so if you are not up for multiple hikes on the same day, you can skip one and pick the other. This sight is so named because of the shape of the rocks that resemble the head of a man. This formation is so clearly visible from various places nearby that you can also see it from Edakkal Caves.
If you happen to arrive a bit late here, you can enjoy the sunset from the top. You will find the sky bathed in various colors as the sun slowly dips into the horizon. Entry to Phantom Rock costs INR 30 per person. If you bring your motorbike along, you will need to pay the parking fee of INR 10 as well.
5. Karapuzha Dam
Karapuzha dam is an earth dam located on the Karapuzha River which is a tributary of the Kabini River. Even though the dam opened in 2004, its construction had begun in 1977. With a spillway capacity of 34,220 cubic feet per second, this dam boasts a height of 28 meters. Karapuzha Dam is spread over 3 square miles and has an active capacity of 58,371 acre feet.
There is an adventure park in the premises with attractions such as human catapult and ziplining – known to be the longest in all of Wayanad. You can also jump on the trampoline or admire the vibrant flowers in the garden or simply let your children play in the kids' park. The rides are nominally priced and this tourism area has multiple dining options as well. If you wish to have a nice view of the lake, take a stroll along the top of the dam.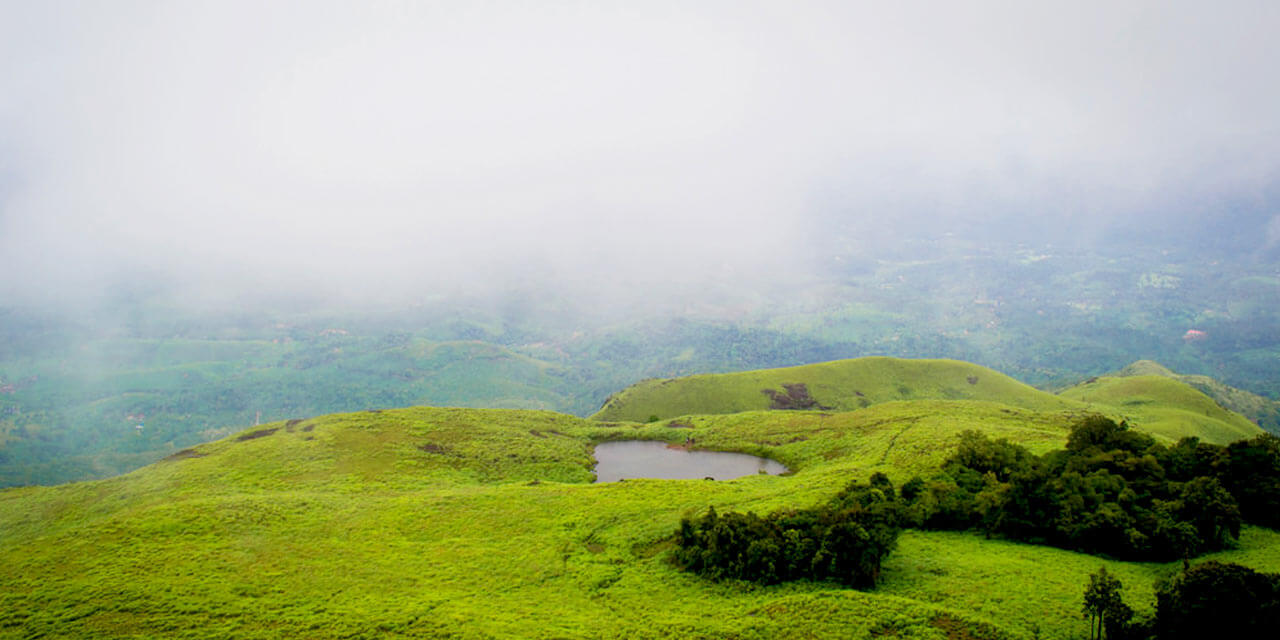 Begin day-2 with a visit to the highest peak of Wayanad – Chembra Peak. Located 7,000 feet above the sea level, this peak offers a sweeping view of a heart-shaped lake called 'Hridayasarassu' from the summit. If you visit in the monsoon, you will also find plenty of waterfalls on your way to the top. If you are unsure about finding the trail on your own, you may also hire a guide to lead you there.
It is recommended to begin your hike before 7 AM and no later than 2 PM to be able to safely make your way back down while there is still sunlight. The hike starts along tea plantations and the gentle incline gives way to steeper terrains as the trail progresses. Expect to hike for about 3 km from the base camp and prepare to have a moderate level of fitness for this trek.
The guided trek offered by the Forest Department costs INR 20 for Indian adults, INR 30 for foreigners and INR 15 for students. If you wish to take your camera along, a fee of INR 40 is applicable to Indians and INR 80 to foreigners.
7. En Ooru Village
For a journey back in time and into a bucolic culture, drive to En Ooru, which is an artificially created village. Open from 9 AM to 5 PM on all days of the week, this village is about 2 km away from the parking spot and a shared jeep can be rented for INR 30 per person or go for a private SUV for INR 50 per person for the round trip. Entry to this tribal village costs INR 50 per person and the place is equipped with a café and a restaurant as well.
Take photos inside traditional mud huts and browse through the artifacts that are exhibited at the open stalls. The hilltop view is worth boasting about, especially if you visit in the afternoon or early evening when the weather is pleasant. The huts here are of various designs and they depict the actual abode of the tribes in the region.
8. Wayanad Tea Museum
Just half an hour away from the village is Wayanad Tea Museum. This century-old museum spills all the beans about tea leaf processing and even has a tea tasting room where you can try some of the concoctions. Separate fees are applicable for the museum tour and the tea tasting.
At Wayanad Tea Museum, you will also learn about the history of tea in the country and discover the various ways of preparing tea. If you are keen on becoming a tea taster or are curious to know what they do, this is a good place to start.
---
Even though this list mentions only a few places to visit in Wayanad in 2 days, there is much more to see and do here. You can change your itinerary to include attractions of your liking or even better, increase the number of days in this Kerala town to enjoy the best of what Wayanad has to offer.